1.Warranty and Guarantee
The warranty period for ebikes is as follows. If the customer finds non-human damage within the warranty period, we will send the replacement parts free of charge. 

After the warranty period, the customer has to pay replacement parts and shipping fees. The bike which we sell are factory new regular products, all parts are the same as the original parts.
In order to facilitate customers to quickly solve the problem of accessories, the accessories purchased separately are sold at cost price; therefore, except for DOA, they are not covered by warranty.

Please kindly note: Used ebikes, modified ebikes are not covered by the warranty.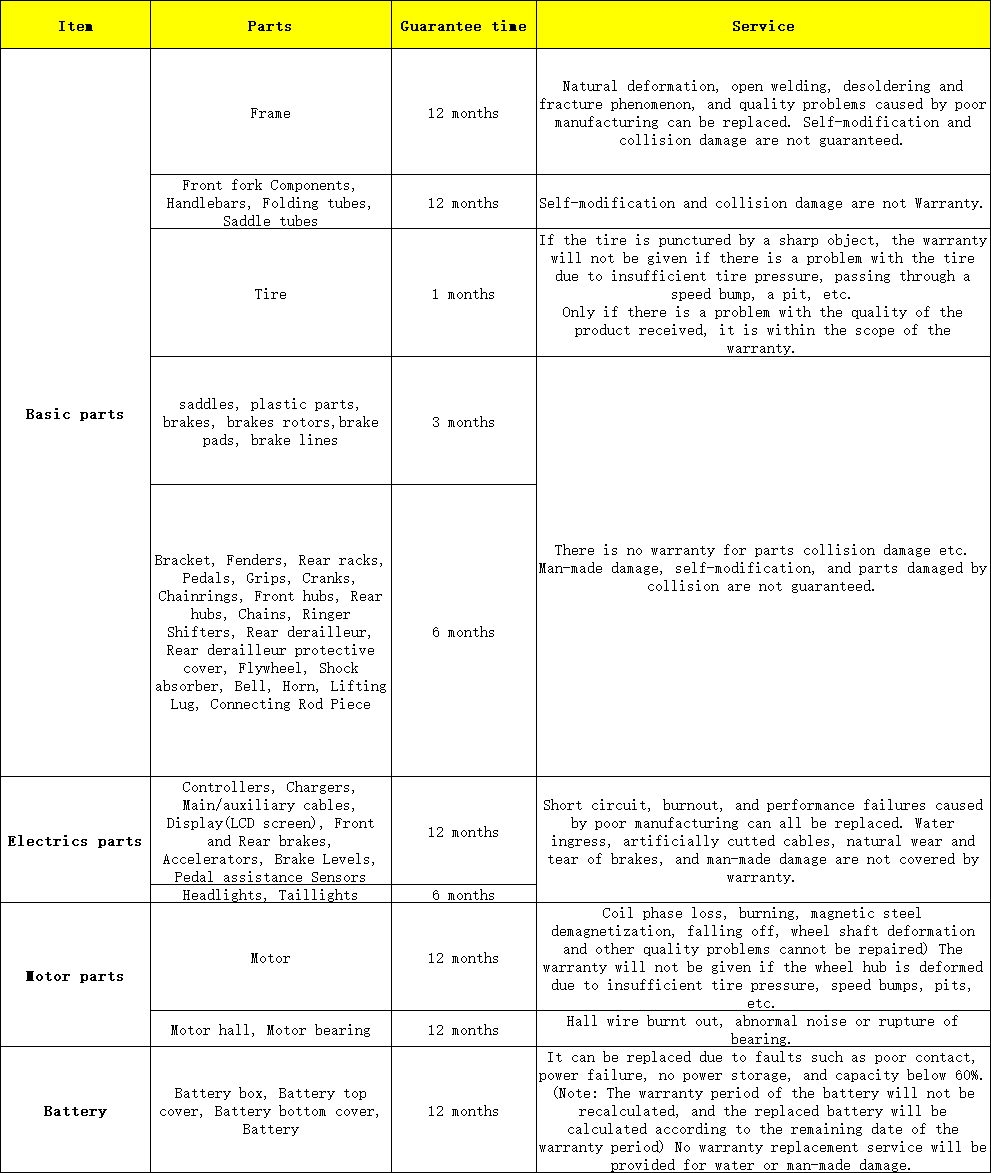 One of the following conditions does NOT qualify for warranty:
1)Failure caused by the user's failure to use, maintain and adjust according to the "Instruction Manual".
2)Users disassemble, repair and modify themselves, and failures caused by non-compliance with the rules of use.
3)Failure caused by improper use or storage by the user, or accident.
4)The cost of going to other repair shops for repairs without consent.
5)Slight scratches or damage to the outer package box caused by the logistics transportation of the accessories are not warranted.
6)Please contact us and obtain our written approval before sending any item back. Any products returned without acceptance will not be refunded.
7)Consumable parts are not warranted , including tires, saddles, plastic parts, brakes, brakes rotors,brake pads, brake lines, surface scratches, etc.
3.How to apply for warranty
Step 1: Take a picture/short video of your question.
Step 2: Send a short description of the problem, pictures or videos of issue, order number, platform of purchase to service@engwe-bikes.com.
Step 3: We'll diagnose your problem and if it's clear what's wrong, we'll provide a solution.
Step 4: When comes to issues that can't be diagnosed in the first place, we will send you the troubleshooting files, it will needs you to detect according to our detection method and provide us with the corresponding videos or pictures, and we will give a solution after receiving the detection videos or pictures.
Step 5: We will verify your order information and delivery address, and reissue the corresponding accessories to you.
4.Contact US
1)Tell:
+33 805980036(EU)Hours: 9 AM - 6 PM (GMT+1 Time), Mon - Fri, 
+1 8442007117(US)Hours: 9 AM - 6 PM (PST-8 Time),Mon - Fri
2)Email:
Please email us through service@engwe-bikes.com.
We typically reply within 1 business day.