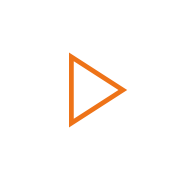 Professional Opinions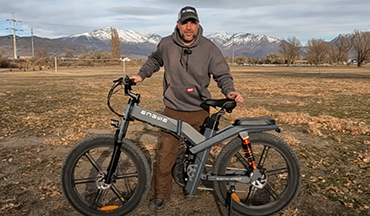 ENGWE X26 1000 Watt Fat Tire Electric Bike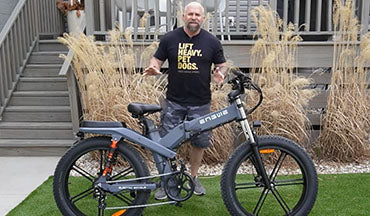 My Love, Hate Relationship with the Engwe x26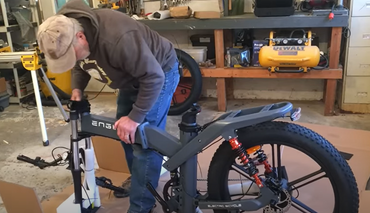 POWERFUL ENGWE X26 E Bike
In Real Life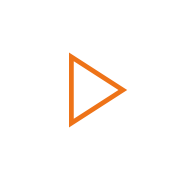 WINNER!
Let me just say this is a beast of a E-bike. And I wouldn't have it any other way. It is heavy but, it can actually be ridden like a normal bicycle without power. I owned the Adventon Adventure and immediately got rid of that thing after experiencing the X26. As far as delivery concerned; super fast, less than a week, perfect condition, and putting in together was cake. I sold my truck and this is now my only form of transportation. I ride about 20 miles a day to and from work and the small 10amp battery is actually enough for this with peddle. As far as the 19amp seat post battery is concerned that thing will get you over 60 miles full electric on one charge. The only bad thing I can say about this bike is removing the small battery to charge. It's not hard or anything, just extra steps instead of plugging it in. Now this bike is a head turner, beautiful. I love when people give me disturbing looks as I pass them going 32 mph up a bridge. I am up to 192 miles so far, this bike is comfortable and easy to maneuver. Also the folding option is top notch, because whenever it is raining I throw it in the back of peoples vehicles for the ride. This is a happy customer right here, no complaints.
ENGWE X26 is a best E-Bike that you can purchase without breaking the bank.
I wish it has a little more torque. The wheels are lightweight but solid. The range is superb. If they can come up with the place where foot pegs can be installed, it will be perfect.
X26 is an Awesome ebike!
Finally got to ride our new bikes yesterday. Love this bike!
It is almost assembled and I just need to assemble the rest parts. It was easy to assemble the rest parts and it's very easy to fold and unfold. It's also very sturdy and well made.
First, I love the color LCD digital display, it shows all the important info during the ride.
I have ridden a mountain e-bike that costs ten times as much for the past three years and think everyone should get an e-bike. E-bikes don't make you lazy. They encourage you to get out more and exercise more. And when I am mountain biking, I get the same workout but I can go much faster and go up much steeper hills and go twice the distance so it's a lot more fun. This bike is perfect for streets and if you live in a hilly area. It goes 18 mph uphill with my 70-pound daughter on it and for me, at 175 pounds, I can go at least 12 mph up a steep hill with very light pedaling. I'm 6'1" and still consider it comfortable enough to pedal on longer rides with the pedal assist. The twist-grip throttle makes it a lot of fun when you don't want to pedal. But the hydraulic disc brakes work great and it is put together very well. The range seems to be over 15 miles riding hills near me. Faster than you probably could on a regular bike, especially on hills.
We are so thoroughly impressed with all of the features on our bikes. The pedaling is so easy. Handling is so great. Reached the summit of several hills and I could still breathe normally. How enjoyable.
This was very comfortable on my butt and legs. I had no problems or complaints about the seat or pedal reach when I was screwing around on it, either. It should do well on dirt/gravel mountain trails here in Nevada. We love everything about our X26. Biking is so enjoyable now. Overall, I would buy it again!!!